Looking for something specific? Check out: Games and Video Games — Board Game — Cross Necklace — Costumes — T-Shirts — Dresses, Clothes, and Outfits — Figures, Dolls, and Statues — Posters — Caps and Hats — Bags — Mugs — Claddagh Ring — Lunchbox — Shot Glasses and Drinking Game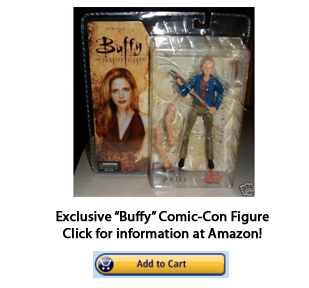 "Buffy the Vampire Slayer" has been so popular since its debut in 1997 that nearly every prop has been replicated, every major actor (and perhaps more) have been turned into statues and dolls, and countless merchandise and collectibles have been created.
If you're as much of a fan as we are — we still can't get enough!
This section of our fan website currently lists popular products like, but there are so many that it will take us time to turn this section into a full resource for our visitors for anything related to "Buffy" merchandise and collectibles, so in the meantime, we will supply direct links to two of our favorite places on the Internet: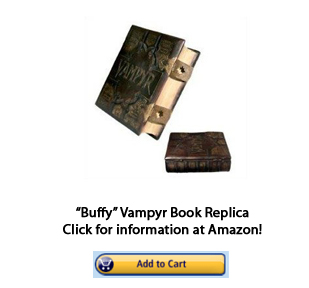 What will be your favorite piece of "Buffy" memorabilia? Do you want to decorate your home with action figure, dolls, or statues of our Scoobies and the monsters they fight? Do you want your own Orb of Thesulah (to use as a paperweight?), "Buffy" stake (what will you name it? Mr. Pointy?), or "Buffy" scythe? Are you trying to find a good "Buffy" (or other) costume for Halloween (even though demons usually hate the holiday)? Perhaps you're a fanatic or investor who is looking for limited-edition items to keep and preserve over the long term? Maybe you're looking for the "Buffy" board game or video game?
Whatever you need, you'll be able to find it here (well, soon) or at the links above.
If there is anything specific that you'd like to see (or are a merchant who wants to list items as well), feel free to drop a line, and we'll look into it. After all, BTVS Online aims to be the Internet's number-one resource for anything and everything relating to "Buffy the Vampire Slayer."
"Buffy" Merchandise Sources