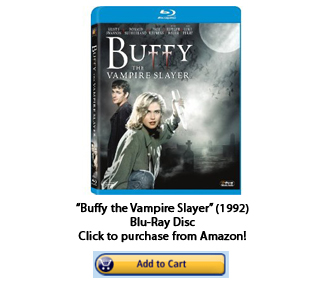 Five years before there was Sarah Michelle Gellar, there was Kristy Swanson.
While Gellar's "Buffy" was more conflicted, dark, and torn between her mythical duties and her desire for what always called "a normal life," Swanson's more more cliched and campy. We don't want to get into the history here, but creator Joss Whedon's vision was essentially changed by the studio out of its desire to make something that they thought would sell more tickets. (Later, the television show, for better or worse, executed Whedon's original goal.)
The original "Buffy" movies — now available in a blu-ray disc and the original DVD — divide the fan base. Some prefer only the original movie because of the lack of angst-ridden melodrama, but others — the vast majority, it seems — think that the show had better characters, plots, and themes. After all, just two episodes of the series cover as much screen time as one movie, and there is only so much that a film can do in a limited amount of time.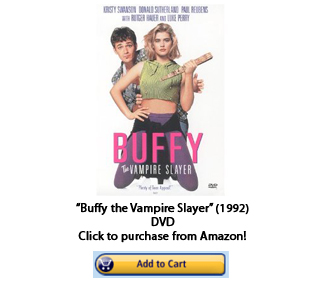 Regardless of one's opinion, the "Buffy" movies — and a remake of the Swanson film is reportedly on the way — do set the stage for the television series, so they are valuable as canonical lore for any die-hard fan. Buffy is called to service by her watcher (played by Donald Sutherland), she begins training, and ends up burning down her Los Angeles high school's gymnasium since it was full of vampires (an action that got her kicked out of school and forced her and her mother to move to Sunnydale, California, when the television show begins). In the first episode of the series, she tells the principal, "You don't understand — that gym was full of vampi… asbestos."
In the movie, Buffy starts dating a rebel (played by nineties heart-throb Luke Perry) and fights a vampire king (Rutger Hauer), his sidekick (Paul Ruebens, otherwise known as Pee-Wee Herman), and their mob of vampires.
"Buffy" Movies Vs. the TV Show
Still, there are similarities between the "Buffy movies" and TV show. "Buffy" is still punny and delivers one-liners while slaying (not usually dusting, in the film) vampires. True to Whedon's theme, the supposed blond, weak, cheerleader that dies in nearly every horror movie actually ends up being the hero and saving the world. The film is more tongue-in-cheek and a reverse-take on the genre, while the television show takes that original plot and expands greatly — especially in terms of the wonderful supporting-cast. For this reason alone, the movies, whether on blu-ray or DVD, are a logical and necessary addition to the libraries of any "Buffy" fan.
Now, we present the trailer: