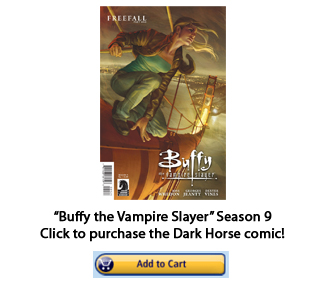 January 2013
David Boreanaz (Angel) and Nathan Fillion (Caleb and Captain Mal in "Firefly") were among TV Guide's top actors of 2012, as voted by users.
An academic conference on Joss Whedon's works will be held in North Carolina in June.
December 2012
Buffyfest held its annual Whedonverse Holiday Ornament Swap.
Buffy was named as one of i09′s most-epic action heroes.
Volume 9.2 of the "Buffy" academic journal Slayage is out.
Charisma Carpenter (Cordelia) talks about the new season of "The Lying Game"
Spike is cited as a good example of masculinity in today's culture.
Buffy writer Jane Espenson tells why Joss Whedon is the "hero of the year."
Entertainment Weekly names Joss Whedon as "Winner of the Decade."
The AV Club names the ten best "Buffy" episodes that best represent the series.
Eliza Dushku (Faith) will co-star in a new version of "The Saint."
A blog at ThinkProgress examines the moral complexity in "Buffy."
October 2012
September 2012
Sarah Michelle Gellar (Buffy) gave birth to her second child.
Danny Strong (Jonathan) won an Emmy Award for his writing for the HBO program "Game Change."
Anthony Stewart Head (Giles) tweets about a radio comedy he will be doing.
Photos from Alyson Hannigan (Willow) walking her three-year-old daughter to school in Los Angeles.
Ken Lerner (Principal Flutie) will guest-star on"The Big Bang Theory" (spoilers).
What do you want to see in Joss Whedon's new show SHIELD?
MTV interviews Nathan Fillion (Caleb and Captain Mal on "Firefly") and Tom Lenk (Andrew).
A report on a new study on how watching television shows like "Buffy" affect male attitudes towards violence against women.
A blog post on the top ten "other" Buffy episodes rather than those most-often cited.
Emma Caulfield (Anya) will guest star on "Royal Pains."
"Buffy" Season 9 will introduce a gay character in the comic-book series (spoilers).
Variety interviews Joss Whedon and several other Whedonverse characters.
Video from the BuffyFest panel at the Chicago Comic-Con.
An interview with the creative team behind the upcoming "Willow" comic-book series.
Sci-Fi Now's list of the top-ten "Buffy" episodes.
The "Buffy Season 9" panel at DragonCon (spoilers).
August 2012
An essay on the "spiritual atheism" of "Buffy," "Angel," and other television shows.
Clare Kramer's (Glory) discussion on Reddit.
A BAMF girls spoof showing what would happen if Michonne, Hermione, Katniss, Lisbeth, Buffy, and Bella would live together in a reality TV show.
Bitch Flicks had a "Buffy"-themed week.
Sunnydale makes an appearance as one of the best fictional TV settings.
June 2012
Capsule Computers interviews Mercedes McNab (Harmony).
Clare Kramer (Glory) interviews Amber Benson (Tara).
Comic Book Resources talks with Rebekah Isaacs (the artist of the Angel & Faith comics series)
Scott Allie talks about the expanding Buffyverse in the various comics and the upcoming Spike/Willow miniseries.