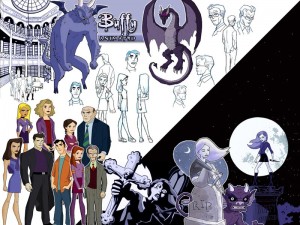 The "Buffy" animated series was conceptualized and begun towards the end of the television show. Development began in 2001 by executive producers Joss Whedon and Jeph Loeb, and nearly all of the "Buffy" cast from the early part of the original series since the animated one would have occurred in the middle of Season One (after the arrival of Principal Snyder).
Twentieth Century Fox, the company that produced the series, was going to air the animated series on Fox Kids, but the network had stopped operations before the animated series would air. No other network purchased the series after efforts lasting through 2004 — in part because it was viewed as too "adult" for children and too childish for adults — so the project was halted.
In a 2003 interview with The Hollywood Reporter, Whedon said:
We just couldn't find a home for (it). We had a great animation director, great visuals, six or seven hilarious scripts from our own staff—and nobody wanted it. I was completely baffled. I felt like I was sitting there with bags of money and nobody would take them from me. It was a question of people either not wanting it or not being able to put up the money because it was not a cheap show. One thing I was very hard-line about was, I didn't want people to see it if it looked like crap. I wanted it to be on a level with "Animaniacs" or "Batman: The Animated Series." And that's a little pricier. But I just don't think it's worth doing unless it's beautiful to look at as well as fun.
Episodes
Loeb said there are thirteen scripts of the animated series including:
"A Day in the Life" (by Jeph Loeb and Joss Whedon)
"Teeny" (by Jane Espenson)
"Lunch is Revolting!" (by Jane Espenson)
"The Back Room" (by Jane Espenson)
Untitled completed episode script (by Steve DeKnight)
Untitled completed episode script (by Drew Greenberg)
Untitled completed episode script (by Doug Petrie)
Untitled unstarted episode script (story set aside for Rebecca Kirshner)
Various episodes involve a demon drivers-ed teacher and a shrunken Buffy as well
Cast
Giselle Loren as Buffy Summers (Sarah Michelle Gellar did not want to come back to the role after the series, and Loren had done voice-overs for the video games)
Alyson Hannigan as Willow Rosenberg
Nicholas Brendon as Xander Harris
Anthony Stewart Head as Rupert Giles
Charisma Carpenter as Cordelia Chase
Michelle Trachtenberg as Dawn Summers
Kristine Sutherland as Joyce Summers
Armin Shimerman as Principal Snyder
David Boreanaz as Angel
Support From Cast Members
In 2008, Brendon said:
I know that there's been talk about the Buffy Animated Series. Which we did, gosh, like, three years ago. You know, to be quite honest with you, I don't know why it didn't go further, but I know that there's been a lot of hububaloo on the old YouTube there, and I checked it out and I almost got a little teary. You know, I hadn't seen Xander in a while, and it was kind of neat to kind of go back into that library and that into life, and all that stuff. But, yeah. So, listen, I'll go on the record by saying I would love to do an animated series for Buffy. That being said, I might be the only one. But, I'm not sure. I haven't had a chance to talk to anybody about it. So, you know, keep your fingers crossed.
That same year, Loeb told MTV:
Everything still exists — the designs, the scripts. It's such a 'no-duh' project, so why the hell not? All you need is to draw it. Eight years ago, there was no fascination with "Family Guy" or "Robot Chicken," but there's an audience now that could drive to it. You can't stand in the way of pop culture.
The Animated Series' Pilot
In 2008, the four-minute unaired pilot was leaked to YouTube:
Personally, we think the animated series would be perfect for the Cartoon Network. After all, the network airs more "adult" cartoons later at night. Maybe one day it will happen!