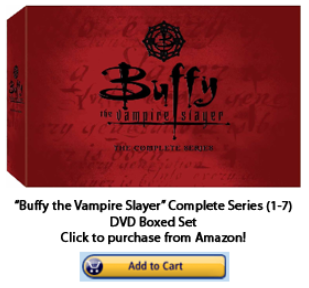 The "Buffy" DVD collection presents a long arc of character development, in-depth story lines, and obscure pop-culture references that may be hard for the first-time viewer to understand, especially if he or she dives into the series in the middle. So, for the benefit of our readers, here is a rough guide to help them along the way.
The first season, of course, aims to establish the show (in other words, not to be canceled), so it focuses more on action — Buffy versus the Master, as you see — and less on character development. The characters are one-dimensional (Buffy the cheerleader super-hero, Willow the computer geek, Cordelia the popular bitch, and so on). But everything changes afterward.
The second season on "Buffy" DVD, however, introduces complexity — and dramatic tension as a result. Buffy falls in love with an older guy who, shall we say, is not exactly her type, and there is a lot of fallout to which anyone who went through a teenage-angst period can relate. Another character starts to overcome her self-esteem issues and become more confident and authoritative — and in a way that directly effects Buffy's relationship, in the end. Two characters who had seemed diametrically opposed to each other grow as people and realize that they may have more in common than they had realized.
The third season, in our opinion, is the best of the early seasons in terms of character development and plot. The Scoobies — the slayer and her circle of friends — are, more or less, settled in their relationships (or lack thereof) and are focused more on the impending transition from high school to college after graduation. Meanwhile, Buffy meets another slayer (we won't give away the plot) who ends up serving as her foil and diametric opposite — in more ways than one can imagine.
The fourth season is a major transition because the characters are no longer in high school — they start to acclimate to college and develop their own adult personalities. Buffy deals with a mother who cleans out her room, Willow makes an important self-discovery about herself, Giles wonders what his future life will entail without needing to serve as the guardian of a teenager slayer, and Xander tries to create a life that is relevant when he is not in college with the rest of his friends. And so on.
What You Will See On "Buffy" DVD
The fifth season deals with family issues — both literal and metaphysical — as the characters become more mature. Buffy "receives" a younger sister named Dawn (again, we won't spoil the reasons) and then deals with her aging mother having a brain tumor. A couple decides to move in together. A main character's significant other faces her family's disapproval of her "life choice." Buffy resets the relationship with her watcher since she is not a teenager anymore. The Big Bad needs to "go back home." In the end, Buffy takes a sad-but-heroic action to preserve her family.
The sixth season of the "Buffy" DVD set focuses on what can be deemed a preview of the "mid-life crisis," but in a twenty-something context. Buffy is sad at her life and needs to take a job at a fast-food restaurant to pay the bills. Her sister becomes a kleptomaniac. Someone else becomes addicted to (metaphysical) drugs. The slayer falls into an abusive relationship simply because she needs to feel a connection, any connection. In the finale, the world is saved a person's helping someone else to cope with her depression.
The seventh (and last) season takes the show back to the beginning, but in a different way. It mixes the black-and-white view of the first season but incorporates all of the life lessons that the characters have learned (for better and for worse). The First Evil wants to end the battle once and for all, and Buffy and company form a battalion of slayers in response.
Here is the video with clips from Season One: