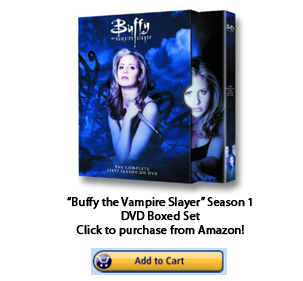 When "Buffy" Season 1 unfolds, we meet Buffy Summers (played by relative-newbie actress Sarah Michelle Gellar), who seems like a typical, normal sixteen-year-old girl. However, she hides a secret: She is the one girl of her generation who has been chosen to fight the forces of evil. Meanwhile, she just wants to date, have fun, and meet boys.
The first season introduces the viewer to Sunnydale High, to where our sophomore heroine transferred from her prior school in Los Angeles (she burned down the gym in the 1992 movie after a battle with vampires). She meets her "watcher," Giles, (played by veteran British actor Anthony Stewart Head) and the first friends and members of who would become known as the "Scooby Gang": lovable dork Xander Harris (portrayed by Nicholas Brendon), computer-dork Willow (Alyson Hannigan), and the token popular-cheerleader Cordelia (Charisma Carpenter). Although later seasons would become darker and deal with complex ethical and life issues, the first one is comparatively lighter and more cheesy in tone.
Still, the cast managed to develop amazing chemistry right from the beginning of "Buffy Season 1 — a feat that is all-the-more unbelievable when people realize that this was the first major role, or any role, that most of the actors had held. We also meet tortured vampire Angel (played by David Boreanaz, now on the show "Bones"), who has a secret that distinguishes him from other creatures of the night.
A Preview of "Buffy" Season 1
Here is the video with the first episode of Season One — it presents the show as a little, well, trite before it became superb, but the video drives the stake point home: