Quick Tip: Want to submit a guest post to our Buffy blog or a story to our fan-fiction section? E-mail us at sjscworldwide (at) gmail.com.
—
Buffy the Vampire Slayer Online is the Internet's top fan website and global fan community and network with free episode viewing ("Angel" too!), an academic blog, a store with resources for all types of merchandise, an interactive Buffy forum, and presences on Facebook, Twitter, Pinterest, and more! We are building localized affiliates throughout the world through unofficial organizers. This is a volunteer fan website and network that is not officially associated with any companies involved in the production of anything having to do with "Buffy the Vampire Slayer," "Angel," or any other Joss Whedon or Mutant Enemy productions in any way.
Staff and Contributors

Samuel Scott, Founder and Publisher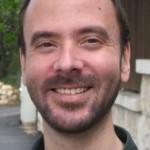 Samuel Scott first saw the Season 3 "Buffy" episode "Gingerbread" during his freshman year at Boston University in the United States in 1999, and he never looked back. Samuel publishes this website and community in his free time outside his careers in journalism and online marketing. He is the author of most of the essays on "Buffy" on this website's blog.
Samuel is a former Boston journalist and newspaper editor who is currently living in Tel Aviv, Israel. He had been finishing his International M.B.A. at Bar-Ilan University while running SJS Consulting Worldwide before becoming Senior Director of Digital Marketing & SEO Team Leader for The Cline Group. He also runs his personal website and others as well. He can be found at his personal LinkedIn, Twitter, Facebook, Google+, and Quora.
In Boston, Scott was Editor-in-Chief and Executive Director of Spare Change News, an alternative newspaper and non-profit organization. Prior to working at SCN, he wrote for Massachusetts newspapers including The Boston Globe, The Patriot Ledger, The Boston Courant, and The Beacon Hill Times, as well as TNT magazine in London. Prior to working in journalism, Scott was a Staff Assistant at the Beacon Hill Institute, an economic think-tank at Suffolk University.
Scott has a B.S. in journalism from Boston University. He is studying in the International M.B.A. program at Bar-Ilan University after pursuing prior studies in the Executive M.B.A. program at Suffolk University in Boston, Massachusetts. Scott has lived, traveled, or studied in Britain, Canada, Egypt, India, and Israel, as well as in various parts of the United States.