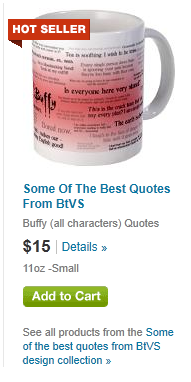 Want some "Buffy" wit and wisdom with your morning coffee? Well, now there are commemorative "Buffy" mugs available just for you. BTVS Online has discovered a great resource for many different types of cups and related items, so we are providing a selection of them here for everyone's perusal.
Mugs are available with:
Collections of quotes from characters in general or just Spike or Buffy
A statement of being on "Team Buffy" or one that advocates that Buffy stake Edward
A drawing of Buffy from the Season 4 episode "Hush" or
Evil Willow's "bored now" quote on a thermos (coffee helps boredom!)
Have a mother who loves "Buffy" as much as she loves her cup 'o' joe? This could make a great gift. Need some "Buffy" inspiration to get you past the morning doldrums before heading to work or class? These mugs will bring smiles to your faces. Want to show off your slayer pride at work? A thermos might just do the trick.
We have sections at this website containing more types of "Buffy" merchandise and collectibles, and a few of the various "Buffy" mugs that are available for purchase are pictured to the right and below. Just click on an image to be taken to the website! There are many more that are available, and we're sure that you will find one that suits your individual style and personal love of "Buffy the Vampire Slayer" perfectly.
And let us know if you see any more website resources that we can list!
Which "Buffy" Mug Do You Like?