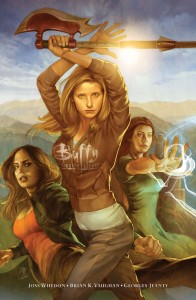 READ THIS FIRST! Buffy the Vampire Slayer Online found a partner, GorillaVid, that will let us embed episodes for free. However, we have to advertise for them. When you click play in the bottom left-hand corner of the video (don't be fooled by ads in the viewer that look like play buttons), pop-up advertisements will appear. (Sorry about that!) Just close the pop-ups. Enjoy! (Don't click anywhere else in the player except for the volume control or to pause and re-start unless you want to be taken to another advertisement.) These videos are hosted by and the legal responsibility of GorillaVid. Their DMCA policy is here. Contact them with any questions. If you get a "video not found" message, click the play button in the lower-left corner again.
Thanks for watching with us at Buffy the Vampire Slayer Online — and don't forget to tell all the "Buffy" fans who you know about our fan website and community!
Pages Containing Full Seasons:
Season 1 | Season 2 | Season 3 | Season 4 | Season 5 | Season 6 | Season 7 | All Episodes

The Trailer
Other Ways to Watch Buffy Episodes Online:
Buffy Season 4 Episodes Online
Season 4, episode 1: "The Freshman" — The Scoobies start to attend the University of California at Sunnydale, and Buffy finds that adjusting to college is harder than she had thought. Meanwhile, Xander comes back from a road trip, and a new vampire makes an appearance.
Season 4, episode 2: "Living Conditions" — Buffy must deal with a difficult college roommate, and she becomes insanely violent when she thinks the roommate is a demon.
Season 4, episode 3: "The Harsh Light of Day" — Spike comes back to Sunnydale — and dating new-vampire Harmony — in search of a vampire relic that he thinks will make him invincible.
Season 4, episode 4: "Fear Itself" — The Scoobies attend a Halloween party at a UC-Sunnydale fraternity, and their haunted house turns into something much more frightening.
Season 4, episode 5: "Beer Bad" — Townie Xander becomes a bartender the University of Sunnydale's pub, and Buffy befriends a group of upperclassmen there. When Xander discovers something mystical at the bar, it affects everyone, and Buffy confronts Parker, the guy who broke her heart.
Season 4, episode 6: "Wild at Heart" — Another werewolf is attacking students at the University of Sunnydale, and when the Scoobies discover the person's identity, it will change Willow and Oz's relationship forever.
Season 4, episode 7: "The Initiative" — We learn the secret identities of Riley, Buffy's psychology class TA, and Maggie Walsh, the professor of the class.
Season 4, episode 8: "Pangs" — Xander, now working in construction, disturbs an old Indian burial ground at UC-Sunnydale right before Thanksgiving. The ghosts that are unleashed threaten Buffy's plans for the holiday. Meanwhile, Angel secretly visits from Los Angeles.
Season 4, episode 9: "Something Blue" — Willow casts a spell that goes awry: Buffy and Spike get engaged, Giles loses his ability to see, and Xander is attracting even more demons than usual.
Season 4, episode 10: "Hush" — A mysterious group of demons arrives in Sunnydale and steals everyone's ability to speak. The whole town descends into chaos, and the Scoobies must find a way to fight them in this critically-acclaimed episode.
Season 4, episode 11: "Doomed" — The Hellmouth under the ruins of Sunnydale High School is about to reopen, bringing a potential apocalypse to the world again.
Season 4, episode 12: "A New Man" — Buffy and Riley's relationships grows stronger, and Ethan returns to town and casts a spell on Giles that turns him into a demon.
Season 4, episode 13: "The I in Team" — Buffy joins the Initiative, and the Scoobies are concerned about her involvement in the secret, government-military organization.
Season 4, episode 14: "Goodbye Iowa" — After surviving Maggie Walsh's attempt to kill her and then being murdered, Buffy discovers the Initiative's secret project. Riley's loyalty to the organization is also put to the test.
Season 4, episode 15: "This Year's Girl" — Faith wakes up from the coma into which she fell at the end of Season 3, and she begins seeking revenge against Buffy and those closest to her.
Season 4, episode 16: "Who Are You?" — Faith magically switches bodies with Buffy, and Buffy is mistakenly captured by the Watcher's Council. Faith then tries to steal Buffy's life, mother, and her boyfriend Riley.
Season 4, episode 17: "Superstar" — Jonathan, the nerd from high school, is the most loved and admired person in Sunnydale, for some mysterious reason.
Season 4, episode 18: "Where the Wild Things Are" — Buffy and Riley's intimacy unwittingly unleashes a powerful spell that amplifies the hormones and emotions of the local college students.
Season 4, episode 19: "New Moon Rising" — Oz returns to Sunnydale with his werewolf-self under control and wants to get back together with Willow. Soon, her discovers her new relationship.
Season 4, episode 20: "The Yoko Factor" — Adam and Spike team-up to split up the Scoobies by emphasizing the pent-up emotions and anger that has been building among them all season.
Season 4, episode 21: "Primeval" — Buffy and her friends must stop Adam from building a master race of human, demon, and robot hybrids.
Season 4, episode 22: "Restless" — A mysterious monster is killing the Scoobies one by one in the dreams, and Buffy realizes that its identity is something much more.