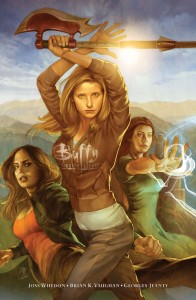 READ THIS FIRST! Buffy the Vampire Slayer Online found a partner, GorillaVid, that will let us embed episodes for free. However, we have to advertise for them. When you click play in the bottom left-hand corner of the video (don't be fooled by ads in the viewer that look like play buttons), pop-up advertisements will appear. (Sorry about that!) Just close the pop-ups. Enjoy! (Don't click anywhere else in the player except for the volume control or to pause and re-start unless you want to be taken to another advertisement.) These videos are hosted by and the legal responsibility of GorillaVid. Their DMCA policy is here. Contact them with any questions. If you get a "video not found" message, click the play button in the lower-left corner again.
Thanks for watching with us at Buffy the Vampire Slayer Online — and don't forget to tell all the "Buffy" fans who you know about our fan website and community!
Pages Containing Full Seasons:
Season 1 | Season 2 | Season 3 | Season 4 | Season 5 | Season 6 | Season 7 | All Episodes
"Buffy the Vampire Slayer (1992)" — Buffy Summers is a blond, cheerleading, high-school student in Los Angeles, California, who discovers that she has been chosen to fight vampires.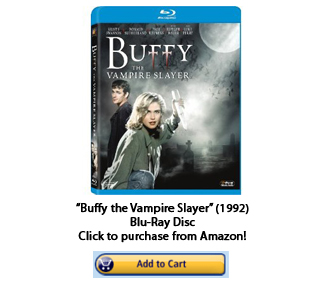 In the "Buffy" 1992 film, there was Kristy Swanson as our heroine long before Sarah Michelle Gellar took on and revamped — yes, sorry for the pun — the personality of the character.
Gellar's portrayal of "Buffy" became more angsty and conflict-ridden as her duty and sacrifices wore her down over the seven years of the television show, but her persona in Season One was much more similar to that of Swanson's interpretation of the character. In the span of roughly in hour-and-a-half, there was little time to mope over Buffy's desire for a "normal life." She just had to fight the vampires and win.
Still, the "Buffy" 1992 movie — which can be seen on a blu-ray disc or on the DVD (we doubt anyone uses VHS video-cassettes any more) — provokes a lot of controversy among the show's fan base. A few like the movie because it is merely campy fun and not, as detractors of the TV show state, a "soap opera." But the program's supporters — whom, it seems, carry the day in terms of numbers — like the complexity in the supporting characters, complex plots, and darker themes. In part, this is a natural result of the medium: two episodes of the TV show consist of as much screen time as the movie, and a film can only do a little in such a small time-frame.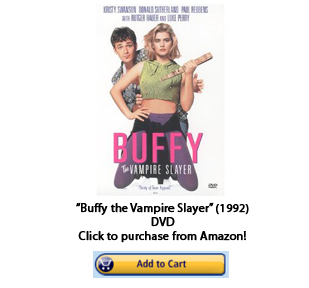 But whatever you may think, the "Buffy" 1992 film — and a remake, for better or worse, seems to be coming — presents the beginning of the mythology before the Gellar-starring television series, so it is very important for anyone who wants to know every part — or minute — of the story. Buffy meets her watcher (the actor Donald Sutherland), she starts to train, and later burns down her school's gym — which had happened to contain a lot of vampires (as a result, she was kicked out of school, and Buffy and Joyce, her mother, relocate from Los Angeles to Sunnydale, California, at the start of the first season). Buffy tells her new principal, "You don't understand — that gym was full of vampi… asbestos."
In the film, Buffy dates a "bad boy" (played by nineties heart-throb Luke Perry) and wages war against a vampire lord (Rutger Hauer), his lackey (Paul Ruebens), and their vampire followers.
Buffy 1992 vs. Buffy 1997

Still, not everything is different from Buffy in 1992 and Buffy in 1997. Our heroine loves delivering cheesy one-liners while killing the undead, and the ditzy cheerleader, as we see, turns out to be the hero as she saves the world. Of course, the movie is very tongue-in-cheek and conscious that it is intentionally a reverse-take on the horror-film genre, while the TV program expands the idea and adds a terrific supporting-cast along with elements. Simply for this idea, the "Buffy" 1992 movies, whether on blu-ray or DVD, is a must-have for any "Buffy" fanatic.
Here's the trailer: