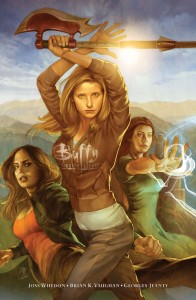 Note: This is a list of every band that either performed live at The Bronze or had their music played at the club. The list includes only the episodes in which The Bronze appeared. For more "Buffy" music, you can see our online store.
Here are compilations of "Buffy" music as well: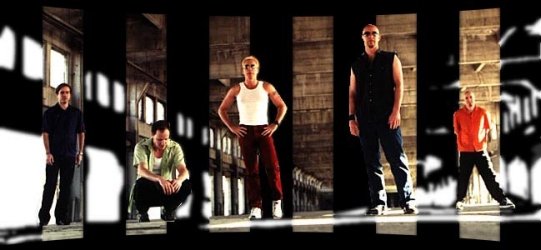 Season One | Season Two | Season Three | Season Four | Season Five | Season Six | Season Seven
Season Four
The Freshman — Stretch Princess plays "Universe" from their self-titled album as a confused Buffy walks around campus on her first day at college. The Muffs play "I Wish I Could be You" from "Alert Today Alive Tomorrow" as the vampires go through Eddie's belongings after they steal them. David Bowie plays "Memories of a Free Festival" from "Space Oddity" on Giles' stereo as Buffy arrives. Splendid plays "You and Me" from "Have You Got a Name for It" on stage at the Bronze.
The Harsh Light of Day — Four Star Mary plays the songs of Oz's fictional band Dingoes Ate My Baby. In this episode, they play "Dilate" from "Thrown to the Wolves." Psychic Rain plays "Take Me Down" from "Spun Out" at the Bronze after Oz's band leaves. Bif Naked plays at the fraternity party: "Moment of Weakness" and "Anything" and "Lucky" (as Buffy and Parker have sex) from "I Bificus." Devil Doll plays "Faith in Love" from "Queen of Pain" when Harmony gets Spike to come to bed. Dollshead plays "It's Over, It's Under" from "Frozen Charlotte" when Buffy is looking for Spike and Harmony after the party.
Beer Bad — Veruca's "band" is performing THC's "Overfire" from Adagio at the Bronze.
Wild at Heart — Veruca's "band" is performing THC's "Dip" from Adagio at the Bronze and then rehearsing "Need to Destroy" from the same album later.
Something Blue — Willow is dancing in the Bronze to Blink 182's "All the Small Things" from "Enema of the State."
The I in Team — "Trashed" by Lavish's "Polaroid" album is playing when everyone is waiting for Buffy to come to the Bronze. Black Lab's "Keep Myself Awake" from the "Buffy" soundtrack and "Your Body Above Me" is playing when Buffy and the Initiative soldiers enter the Bronze.
Who Are You? — Nerf Herder's "Vivian" from "How to Meet Girls" is playing when Faith as Buffy is dancing in the Bronze. Nerf Herder performs the "Buffy" theme song. The Cure's "Watching Me Fall" from "Bloodflowers" is playing when Faith as Buffy talks with Spike. Headland's "Sweet Charlotte Rose" is playing when Willow, Tara, and Faith as Buffy are at the club.
Superstar — Royal Crown Revue is playing "Trapped" from "Walk on Fire" on stage at the Bronze.
Where the Wild Things Are — Face to Face's "The Devil You Know (God is a Man)" from the "Buffy" soundtrack and "Ignorance is Bliss" is playing at the party when Willow and Tara are talking on the stairs.
Like this post? Submit it to Whedonesque!