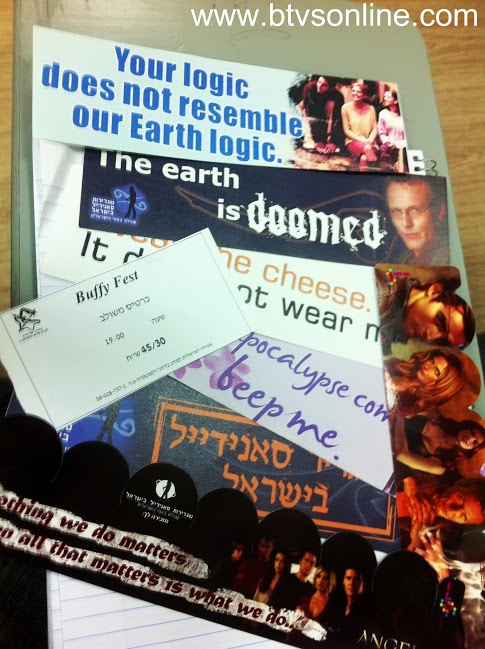 Editor's note: Want to contribute a guest essay? Contact us.
By Samuel Scott
TEL AVIV — "Israelis have to fight all the time. Life is hard, and that's what Joss is saying."
So replied Vardit Gresler, co-organizer of BuffyFest this past Thursday, in response to a question from Buffy the Vampire Slayer Online on what aspects of the television show appeal specifically to the small but passionate number of Whedonites (fans of "Buffy" creator Joss Whedon) in Israel.
Gresler was referring not only to the ever-present conflict in the Middle East but also to the fight that most Israelis have, as they describe it, to keep their checking accounts from going (sometimes more) into overdraft each month. The average salary here is the equivalent of $27,000 per year, Israel has the highest OECD poverty rate, and most consumer products are more expensive than in the West. The economic conditions have led to many protests throughout Israel, as in many other Middle Eastern countries, in recent years.
"That's gloomy, but that's life," Gresler continued, using a line of dialogue in the "Buffy" musical episode in season six. "By the age of fourteen, I knew six people who had died [in wars and terrorist attacks]."
Of course, most of BuffyFest 2013 — which was funded by the Israeli Society for Science-Fiction — was not focused on such serious matters. After the doors opened at 6:30 p.m., Israelis from across the country slowly began to fill the media classroom of a central Tel Aviv high school while scooping up free "Buffy" bumper stickers (above), soda, and the popular Israeli snack Bamba while chatting and posing for pictures in "Buffy" T-shirts: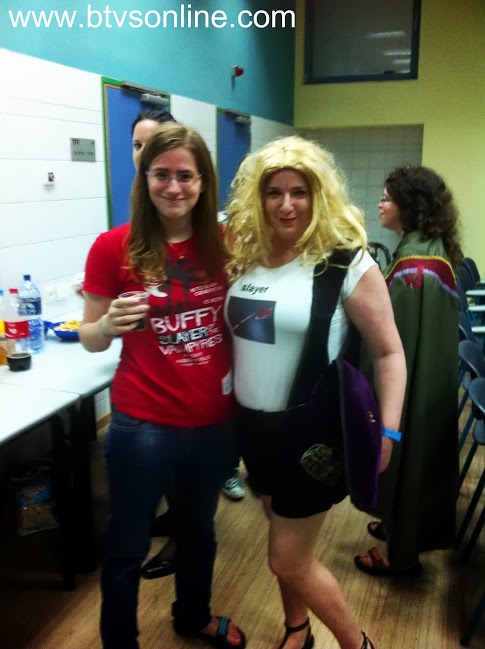 An estimated 250 to 300 people filled the classroom before the NIS 45 (roughly $11) event began shortly after 7 p.m. Vardit, 26 and a chemist by day and "Buffy" organizer by night, opened BuffyFest Tel Aviv by showing each song from the musical episode and then discussing the inspirations from music history for the pieces: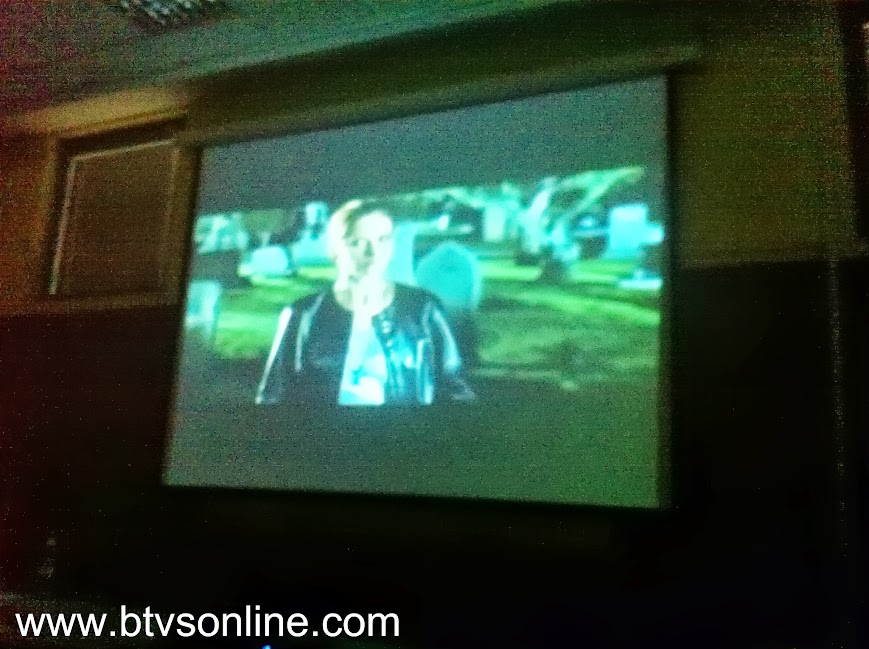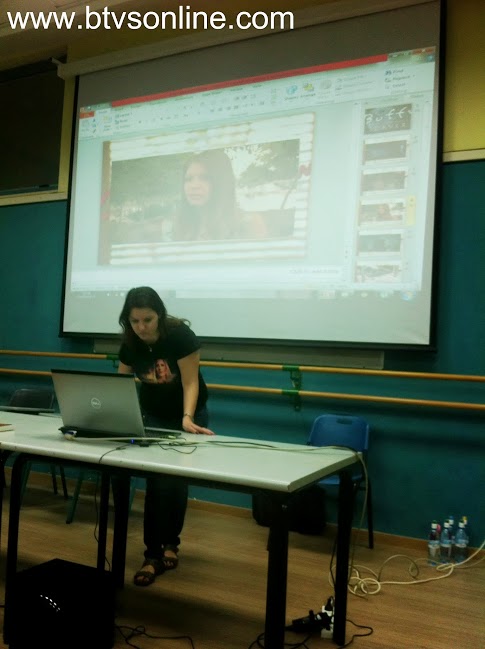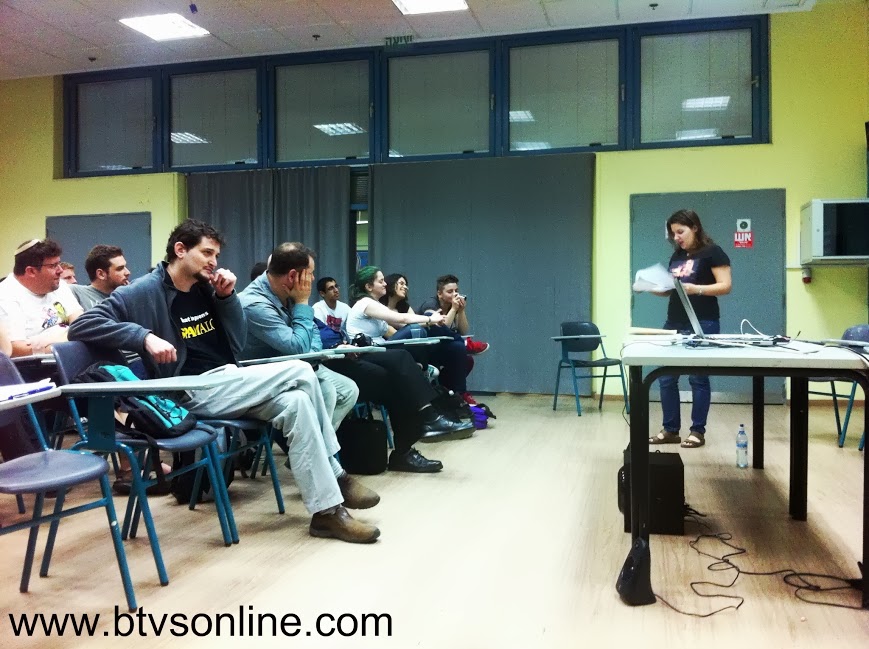 A panel of four speakers — Israeli academics Pnina Moldovano, Asasf Razon, Hadas Sloin, and Nurit Horak along with BuffyFest's other co-organizer, Shaked Hyman (an 18-year-old music student at the high school in the red T-shirt in the first picture above and the one below) — pulled pieces of paper with words submitted by the event's attendees out of a pirate hat. Each person then spoke for two minutes on the randomly-selected topic to the crowd on topics such as "growing up," "feminism," "sex," "good Spike," and "religion" in relation to "Buffy" and its spin-off "Angel":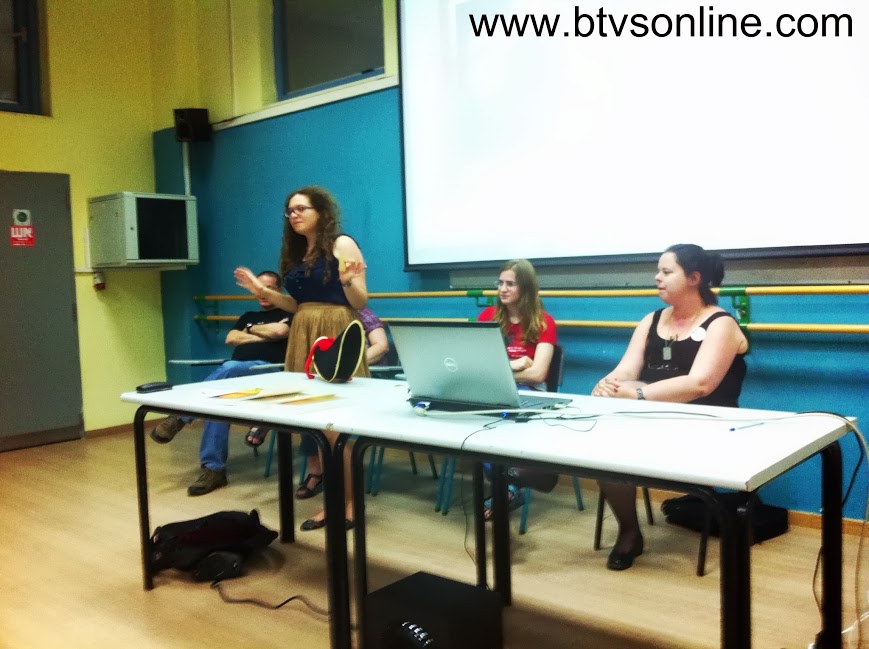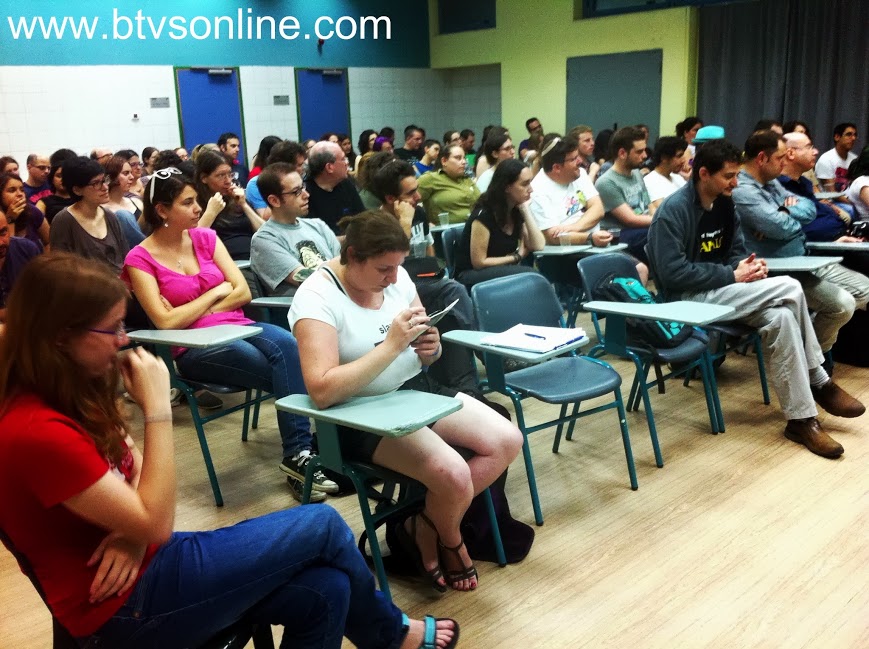 Some thoughts from the presenters:
Spike is very popular in part because his character was an entirely-new type of vampire whereas Angel was the stereotypical one: tall, dark, handsome, dominant, and seductive.
Joyce Summers could be considered a "masorti" type of mother — one who is not always aware of what her daughter is doing, not extremely overbearing, and one who always opens her home to friends and strangers — but one who is fiercely protective when warranted. ("Masorti" refers to Israelis that have so-called "traditional" backgrounds and "Mizrachi" familial roots in other Middle Eastern countries — compared to those "Ashkenazim" with backgrounds from Europe and who are stereotypically associated with having overbearing mothers.)
Nitzan Pincu, an Israeli feminist radio host of Riot Grrrl and Culture Shock with a degree in women and gender in American literature from Tel Aviv University, closed BuffyFest with a discussion of magic and lesbianism in the context that many historical and cultural texts have used magic as a metaphor for sexual "deviancy." The lecture focused on Willow "cutting down the existing social order" through her relationship with Tara:
BuffyFest last week was not the first major "Buffy the Vampire Slayer" event in Israel. In 2003, the year that the seventh and last season ended, many fans put on a live Tel Aviv performance of "Once More With Feeling" (the video is the first part, and the remaining videos can be seen on this channel, although some have been deleted):
The episode played live on a projector screen while the actors lip-synced the lyrics and acted the parts below.
Until five years ago, according to Gresler, many "Buffy" conventions, parties, and special events had occurred in Israel. But the number had declined until Pincu and Gresler held an event at Tel Aviv University with Moldovano and Nitzan last month, and Moldovano organized a "Buffy" evening at an Israeli feminist-themed bar at which Gresler spoke.
"This was the first time I fully managed a 'Buffy' convention, aside from previous smaller events," Gresler told Buffy the Vampire Slayer Online. "Surely there will be many more to come. I have many ideas, and I envision a great future for the Israeli 'Buffy' community."
Although many Israelis, according to Gresler, like "Buffy the Vampire Slayer" because they empathize with Joss Whedon's fictional world of Sunnydale, California, other attendees did not agree with any Israeli association with the program's complicated moralities, constant violence, and ever-present conflict.
"Of course, there are shades of gray in the conflict between the Israelis and the Palestinians, but [the complicated portrayal of good and evil in "Buffy"] is not a good depiction of our conflict," Tal, a 22-year-old man from Jerusalem who is currently performing the mandatory three-year (or two-year for women) military service after high school, told Buffy the Vampire Slayer Online.
Another person said that Israeli fans love the show simply for the same reasons as people in other countries.
"I think it speaks to high-school students [wherever they are in the world]," Alexandra, 25, from the southern Tel Aviv suburb of Bat Yam, said. Asked why she is still a fan long after high school, she replied with a shrug, "Why shouldn't I be?"
Still, Smadar, a 21-year-old woman from outside Jerusalem who is also performing her military service, compared the calling of slayers to Israelis receiving their draft notices after high school. In essence, she said, young people are suddenly plucked out of their normal, everyday lives and then put into dangerous, tough situations.
"You get drafted, you get a job, and from the first day there is all of this responsibility on you — like, all of a sudden, you have become a slayer," she told Buffy the Vampire Slayer Online.
Samuel Scott is the founder and publisher of Buffy the Vampire Slayer Online. You can follow him on Facebook, LinkedIn, Google+, and Twitter as well as on his personal website.
Like this post? Submit it to Whedonesque!