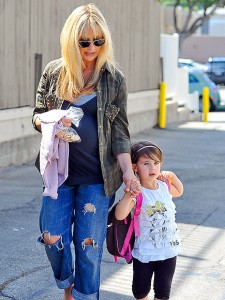 Sarah Michelle Gellar, best known for portraying Buffy Summers in the cult television program "Buffy the Vampire Slayer" from 1997 to 2003, gave birth in Los Angeles to her second child last week, according to several media reports.
The baby, a boy, has not been named yet. Gellar and husband Freddie Prinze Jr. have a three-year-old daughter, Charlotte  Grace, who was born in September 2009. The pregnancy had been announced in April of this year.
"Sarah Michelle and Freddie Prinze Jr. are thrilled to announce that they welcomed a baby son into the world this past week," a publicist for the couple told Us Weekly. "Mother and baby are doing great. And Charlotte is very excited to be a big sister."
Gellar, 35, and Prinze, 36, first met while filming "I Know What You Did Last Summer," a 1997 teen horror film. The two have been married for ten years and had been dating for two years prior to the wedding The couple also appeared together on screen in "Scooby Doo" (2002) and "Scooby Doo 2: Monsters Unleashed" (2004). Gellar and Prinze celebrated their tenth anniversary on September 1.
Gellar had played twin sisters on the new show "Ringer" this year, but it was canceled after its first season. Prinze appeared in the last season of the drama "24."
Samuel Scott is the founder and publisher of Buffy the Vampire Slayer Online. You can follow him on Facebook, LinkedIn, Google+, and Twitter as well as on his personal website.
(Photo credit: People magazine)