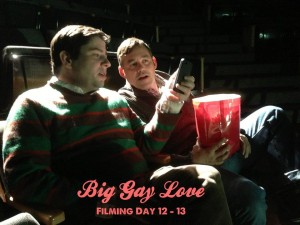 Nicholas Brendon — best known to all of us as Xander in "Buffy the Vampire Slayer" — is co-starring in a new film named "Big Gay Love." However, the producers need to raise just over $3,000 in the next seven days (at the time of writing) on Kickstarter to make it happen! You can get more information and support the film here.
The film is about a gay man (Jonathan Lisecki of "Gayby") who seemingly has it all but is insecure about his looks while attempting to attract a chef he likes (Brendon). The themes are universal: Body-image issues, and dating for love in a world in which everyone seems to want only sex.
As the Kickstarter page notes:
Big Gay Love is a comedy about a chubby gay man who overcomes discrimination based on his looks to find love on his own terms!

The devastating effect of our physique-obsessed culture is explored in the comedy "Big Gay Love." In the movie, Bob (played by Jonathan Lisecki of "Gayby") appears to have it all – a great job, fabulous friends, and is about to become a first time homebuyer. But his success hasn't come without a price for Bob has become the chubby gay man everyone adores, but nobody desires. When true love does find Bob in the form of a chef named Andy (Nicholas Brendon), he doubts if the relationship could be real for his years of living in insecurity has gotten the best of him. To keep up appearances with his friends, Bob considers going under the knife to fit in and be perfect. But underneath it all he longs for something more.

Big Gay Love is a love letter for everyone who's ever wanted to be accepted for themselves regardless of their color, shape, or size.
Here is a featurette all about the movie:
Here is information that the producers sent to Buffy the Vampire Slayer Online:
"Big Gay Love," a fun and heartfelt romantic comedy motion picture starring Jonathan Lisecki (of Gayby) as Bob, a chubby party planner who's star crossed romance with the handsome chef, Andy, played by Nicholas Brendon ("Buffy The Vampire Slayer") leads him to find more than true love. In this comically inspiring love story, we see that being superficial in the dating world, like Bob, can cause you to lose a great guy like Andy. Andy helps Bob discover himself and what true love can really mean once we learn to embrace who we are.
Filming is complete and the Big Gay Love team is now in post production. Team Big Gay Love has started a Kickstarter campaign to finish the film and we need the help of our collective communities.
"I'm happy to be part of an independent gay film production that gives a deeper appreciation of diversity. Our cast is amazing and it's a wonderful story," says Nicholas Brendon.
"Big Gay Love departs from the standard romantic comedy movies centered on beautiful people," says Ringo Le, writer/director of Big Gay Love. " We are sending a message that beauty comes in all shapes, colors, and sizes."
We're a little more than a week away from our Kickstarter deadline and we hope to finish the picture to start the film festival circuit for summer of 2013. With Kickstarter it's all or nothing. If we don't complete our goal by the deadline we may never get to finish our film.
The Cast
Jonathan Lisecki – Jonathan Lisecki is our leading man Bob Bartholomew in Big Gay Love. His first feature Gayby based on the celebrated short film of the same title is now nominated for an Independent Spirit Award for Best First Screenplay. Jonathan was listed in Out Magazine's Top 100 People of 2012. He lives in New York with his husband.
Nicholas Brendon – Nicholas Brendon plays the world-weary Andrew Darcy in Big Gay Love. Born in Los Angeles, California Nicholas got his big break when he landed the role of Xander Harris on Joss Whedon's hugely successful TV series Buffy the Vampire Slayer. His first major role in a feature film came with the Charles Busch satire Psycho Beach Party.
Ann Walker – Ann Walker plays Bob's mother Betty in Big Gay Love. Ann studied in New York City at the American Academy of Dramatic Arts. Her portrayal of Odette Annette Barnett in Del Shore's Southern Baptist Sissies garnered her a Robby Award, a Maddy award, the Los Angeles Drama Critics Circle Award and an Ovation Award nod. Her film credits include Jagged Edge, Father of the Bride II, The Fanatics, It Takes, Two, andSordid Lives.
Amy Hill – Amy Hill is known for her roles as Mrs. DePaulo in That's So Raven, Mrs. Kwan in The Cat in the Hat, Sue in 50 First Dates, Miss Hyo-Kim in Next Friday, Yung-Hee "Grandma" Kim on Margaret Cho's All American Girl. She is currently in the HBO comedy series Enlightened portraying Judy Harvey.
Drew Droege – Alumnus of The Groundlings Company in Los Angeles. He is a founding member of sketch group, The Deviants. Recipient of the 2010 Emerging Talent Award at Outfest Film Festival, Los Angeles. Drew is best known for his online impressions of Chloë Sevigny.
Jason Stuart – Prolific character actor and stand-up comedian Jason Stuart is well-known for his work on over forty popular television shows. Stuart has wowed audiences on Will & Grace, Its Always Sunny In Philadelphia, Everybody Hates Chris, House, M.D., George Lopez. He is best known playing "Dr. Thomas", the therapist on My Wife and Kids.
Todd Stroik – Highly active in theater across the country and for Disney Cruise lines and now breaking into TV and Film and Commercial work Todd is making a splash in Big Gay Love.
Ethan Le Phong – Ethan has appeared in the stage musicals Mamma Mia! (Broadway);Miss Saigon (Broadway); East West Player's Pippin as well as Little Britain USA andNaked Boys Singing.
Jesse James Rice – Jesse James Rice grew up near Seattle. He did a lot of theater, including playing Hamlet and Romeo & Juliet in the Olympic Shakespeare Festival. He is working on his short Leanne is Gone.
The Producers
Ringo Le – Director Ringo Le fled war torn Vietnam as a refugee on the year he was born. His first feature film Saigon Love Story was nominated for the Best New Asian Film Award at the Tokyo International Film Festival 2006. He has been mentored by Bill Condon (through Film Independent) and Paris Barclay (CBS Television). His aunt is Tham Thuy Hang, one of the most iconic actresses of Vietnamese cinema.
Quentin Lee – Born in Hong Kong, Director/Producer Quentin Lee attended UC Berkeley, Yale University and UCLA. As a filmmaker Quentin's films include Shopping for Fangs(co-directed with Justin Lin), Drift, Ethan Mao, The People I've Slept With, and White Frog. As a producer, Quentin produces under his production banner Margin Films. He is prepping his next feature film Full Ride.
Don't forget to go to Kickstarter and help Nicholas Brendon's new film! And spread the word!
 Samuel Scott is the founder and publisher of Buffy the Vampire Slayer Online. You can follow him on Facebook, LinkedIn, Google+, and Twitter as well as on his personal website.